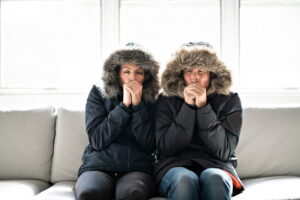 It's one of the most frustrating realizations that you'll ever have. You notice that you're not as comfortable as you'd expect in your home. So you walk over the to the thermostat, but stop halfway there. You just passed a vent and—there's cold air coming out of it! What the heck? Your heater is running! And the air is cool! What gives?
The good news is that this doesn't necessarily mean that there is a serious problem at play.
The bad news is that there could be a serious problem at play.
In today's post, we're going to cover some of the possible causes of this issue that you can resolve on your own. We'll also cover the warning signs that it is, in fact, time to call in a heating professional. So read on, and be sure to let the pros on our team know if there are any problems with your home heating in Bluffton, IN.