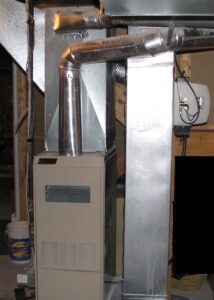 Investing in a great furnace, have it installed by qualified pros like us, and schedule routine maintenance. That's all you need to enjoy the best heating experience possible.
Unfortunately, even the best heating experience is not a perfect heating experience. You are going to need furnace repairs in Fort Wayne, IN, at some point. Doing the above will keep those repair needs to a bare minimum, but even so—they're coming eventually.
Staying out ahead of repair needs and contacting us for service at the first sign of trouble is definitely in your best interest. That also requires knowing some early warning signs to look for, though.  Keep these tips in mind, and reach out if you have any concerns at all about your furnace.
1. Cool Air
If there is one clear sign of trouble with your furnace, it's cool air blowing out of your vents! The cause of such a problem may not be so immediately clear, though. There are a lot of different reasons why this may happen.
The most simple is just a thermostat being set incorrectly. If you have a thermostat set to a "fan-only" mode, then your blower will continue to run even when no heat is being generated. Make sure you've actually got the thermostat set to be generating heat.
That's the easy one. However, you could have a faulty limit switch that leaves the fan running even though it's killed the heat generation in the system.  You could even be dealing with leaky ductwork that is letting heat out into unconditioned spaces on it way to your vents.
2.  Unusual Sounds
Depending on where your furnace is located in your home, you may hear it cycle on or off. You may also hear the sound of air being forced through your ductwork.
What you should not hear, however, is clanging, banging, screeching, or other strange sounds. It could indicate that your system's moving parts are misaligned, damaged, or insufficiently lubricated. Whatever the exact cause of these strange new sounds, you can expect the efficiency with which your system operates, as well as its overall operational quality, to suffer.
Plus, ignoring these problems for long enough could result in damages to your system or even an unsafe situation in your home.
3. Short Cycling
Your furnace should not be running all of the time. However, it also shouldn't be running in very short bursts. If it is, then it is likely short cycling. And that's a big problem.
Short cycling may have a very simple solution, though. Your system may be overheating due to a very dirty air filter. If your system is cycling rapidly, check your filter and replace as needed.
If that's not the case, then you'll need professional service. You could have unsafe combustion temperatures triggering your thermocouple, or some other serious issue causing the system to run erratically. It could even be that your system is too big for your home!
Schedule your furnace services with the professionals at Collier's Comfort. True Comfort, True Savings.