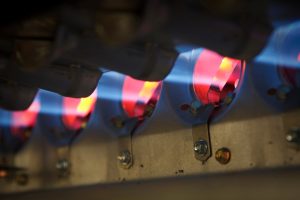 Winter means freezing cold temperatures on a daily basis, which means that your HVAC system is going to be put to the test for months on end. When trouble occurs, you can't waste a moment of time getting it addressed. Your home's temperature can drop precipitously and present a health issue as well as a comfort issue.
However, while waiting on a heating problem isn't an option, you should always take a moment to make sure that a heating repair service is required. Laymen should never attempt to diagnose a problem with their heater: they contain delicate components (and possibly dangerous ones such as gas lines) and require formal training and licensing to address. 
That doesn't mean, however, that you shouldn't take a moment before you call in the cavalry to perform a little simple troubleshooting. Sometimes, the heating problem can be corrected with just a flick of the switch, in which case you can save yourself the cost of a repair session and get the problem fixed in one fell swoop.
Start with the Thermostat
The thermostat is the control center for your entire HVAC system, and can affect the functioning of the heater in ways you might not always anticipate. Another family member might adjust the settings without your knowledge, for instance, and even something as innocuous as brushing against the system can affect the readings. Programming features can run into trouble as well. Always check the thermostat the first time something goes wrong, and make sure it's functioning the way it should. Even if that doesn't solve the problem, it may indicate a problem with the thermostat instead of the heater: pointing the repair service in the right direction.
No Power? Check the Breaker Box
One of the most obvious signs of trouble with your heater is that it simply doesn't turn on. There are a number of legitimate repair issues that might cause this: many heaters have automatic shut-off features to prevent further damage (and sometimes to keep your home safe, as in the case of leaking gas). But it might also be a power surge: causing the breakers to switch or similar issues that can be solved just by checking the breaker box. If power to the heater has been cut off, flip the switch and run the heater again. It will likely solve the problem. Only if the breaker flips again should you consider a repair service. (It means the problem is with the heater rather than an external issue with electrical power.)
Basic Maintenance Means Troubleshooting
Most heating repair services provide maintenance as well: giving your system a once-over to ensure that everything is working well. You can help your own cause out with a few simple tips you can perform yourself. For instance, most HVAC systems have filters designed to strain out dust and dirt. When they become clogged, it can affect airflow: leaving heat trapped in your system and possibly causing it to shut down. Check your filters to make sure they don't need replacing: if they do, you might be able to solve the problem by discarding the old one and putting a new one in place (replacement filters are available at any hardware store).
Formal heating repairs here in Fort Wayne, IN can be conducted by Collier's Comfort!