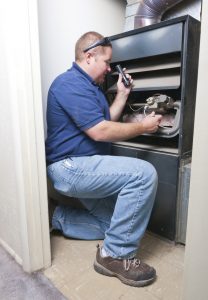 We're in the throes of winter here in Fort Wayne, IN, which means your household furnace is likely performing daily duty in an effort to keep your home comfortable. If your system needs repairs, you need to schedule them sooner rather than later. The more time goes on with your furnace operating with a problem, the more likely the damage is to spread and the greater the likelihood that it will shut down completely: requiring immediate action before your home resembles an ice box.
The good news is that you can usually spot the signs that something is wrong with your furnace very easily, and while you should never attempt to formally diagnose the problem (much less attempt repairs), you can still spot the signs that something isn't as it should. When you do, turn the system off and call in a repair service immediately. (24/7 emergency services are available.)
Generally speaking, anything you don't recognize as part of your furnace's normal operations should be considered a sign of trouble and necessitate a shutdown. More specifically, look for the following common signs of trouble.
Refusal to Turn On. A refusal to turn on is an easy sign of a problem. You should troubleshoot by checking the breaker box or thermostat first. Otherwise, you're likely looking at something that can cause a safety issue if the furnace turns on (like leaking gas) and the shutdown is merely an automatic precaution.
Low Heat Levels. If the air coming out of the vents isn't as hot as you expect it to be, it will force the heater to work harder to do its job. Bills will go up, and remaining components will be put under greater strain.
Low Air Flow. Low air flow can be caused by a blockage in the ducts or possibly a problem with the fan. As with low heat levels, it will put added strain on the system, but it also tends to leave hot air inside the furnace, which will cause individual components to overheat.
Short Cycling. Furnaces use far more energy turning on and turning off than they do simply running. Short cycling takes place when a problem with the furnace causes it to trun on and off again multiple times throughout the day.
Why Shouldn't You Wait?
A lack of heat for your home isn't just a matter of comfort. It can be actively dangerous, especially if you have a sensitive family member such as an infant or an elderly relative. If your furnace can't operate, you can't afford to just sit on it until a convenient moment. Furthermore, attempting to run the furnace despite the obvious signs of a problem is troublesome too. In most cases, the issue will simply get worse and worse: causing more damage until a shutdown is inevitable and forcing you to scramble for repairs instead of scheduling them at leisure.
If you detect signs of trouble in the furnace in your Fort Wayne, IN home, turn it off immediately and call in the friendly pros at Collier's Comfort.