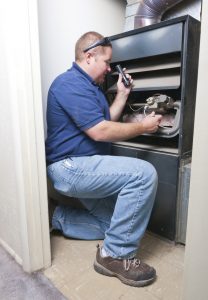 Heating services are vital for keeping your furnace or boiler up and running during the depths of winter, just as air conditioning services are necessary to keep your home cool and comfortable in the summer. Ideally, your HVAC system will work as expected every time. We recommend periodic maintenance sessions from a qualified service to help with that.
But sooner or later, every system runs into trouble, and when it does, you want a quality service to get the issue taken care of. (The same can be said about those maintenance sessions, as well as those times when your HVAC system has finally given up the ghost and you need to install a new one.) When that happens, you want the best HVAC service you can find. But how to select the right one?
In the end, only you can decide which service is best for you. There are, however, a number of qualities you can look for that will help you make up your mind. We've included a list of them below.
Affiliations
Almost every company has affiliations from satisfied customers speaking about their pleasant experience with the service. But top-notch companies can go further than that. In particular, look for reputable third parties that offer their endorsement of the service, such as the Better Business Bureau. Also look for a specific purple symbol that indicates NATE certification. North American Technician Excellence is an objective organization dedicated to testing and certifying HVAC technicians at the very highest level. NATE certification means a company that you can expect the best from every time.
Emergency Services
When your heater goes down in the middle of the night, or during a weekend when most businesses are closed, you can't afford to simply wait until regular business hours. Doing so could turn your home into an icebox in a matter of hours. A reliable HVAC service understands that not every problem picks 9-5 hours to make your life difficult, and offers emergency repairs 24 hours a day, 7 days a week. That way, you can call them anytime with what you need and can trust that they'll be there!
 Multiple Systems
A good HVAC technician will be able to treat your specific problem, not just apply a one-size-fits-all band-aid to the issue. A good way to determine that its to look at the different kinds of systems they treat. Does it include things like boilers, heat pumps, and geothermal systems? Does it involve ductwork and upgrades like zone controls? Are indoor air quality devices included as some of the things they treat?
If the answer is yes, you likely have a service that's worth keeping. Why? It means they take the time to stay up to speed about all aspects of the field. So even if you have a simple problem with a standard-issue forced-air furnace, you can rest assured that the technician will have the skills and experience to handle it!
For quality HVAC services throughout the Fort Wayne, IN area, call on the friendly pros at Collier's Comfort right away!