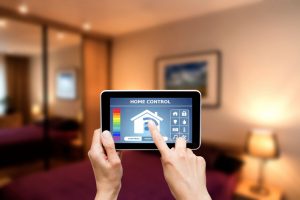 Before you reach for the phone to call for yet another furnace repair, have you considered that maybe your heater isn't the source of the problem? All too often, we have encountered people who are struggling through winter and are sure their heater is broken only to discover that the real culprit is their thermostat.
If there is an issue with your thermostat it can actually be the main cause of a seemingly malfunctioning heater. This is because your thermostat is responsible for detecting the temperature difference in the room and letting your heater know when it is time to turn on. Problems with the connection between your heater and your thermostat, or with your thermostat's ability to gauge the temperature of the room, can result in a very chilly, or very stuffy, home.
Learn more about this issue below and contact Collier's Comfort when you are in need of thermostat repair in Fort Wayne, IN.
What's Wrong with My Thermostat?
Sometimes, thermostats will have problems from the moment they are installed. Other times, they will develop issues further down the road. In either case, a faulty thermostat is an issue that can harm your heater. So what might be wrong with it?
Miscalibration: Your thermostat could be micalibrated, meaning that it is unable to read the temperature of the room correctly. This may result in your thermostat telling your heater to run too much, or never prompting the system to run.
Disconnection: If your thermostat becomes disconnected, it won't be able to tell your heater what to do at all. This means that your heater won't turn on no matter how many times you try to start the system.
How Does This Impact My Heater?
As you might expect, thermostat issues can and will have an impact on your heating system, aside from making you believe that the heater itself is malfunctioning. Negative impacts can include:
Uneven heating: A miscalibrated thermostat might read the temperature incorrectly and pump too much or too little warmth into the home. What's more, a faulty thermostat can prompt the heater to run and tell it to shut off too soon, increasing wear and tear on the system.
A heater that never turns off: If your thermostat can't pick up on when the home is heated well enough, it may just tell the heater to keep running. This can lead to an increased need for repairs and even an early replacement.
Delayed start-up: If there is a disconnect between your thermostat and your heater, it may cause a delay when you try to turn on the heat.
Benefits of a Smart Thermostat
If your thermostat seems to be having trouble, you have the option to get it repaired and/or replace it with a smart thermostat. Smart thermostats can offer you better control of your home comfort and keep you in the loop on everything going on within your system. If it is time for a new thermostat, you may want to consider their helpful, energy-efficient option.
Whatever you choose, repairs or replacement, make sure you reach out to a trained technician to get the job done.
Contact Collier's Comfort for professional services for your home comfort needs. True Comfort, True Savings.