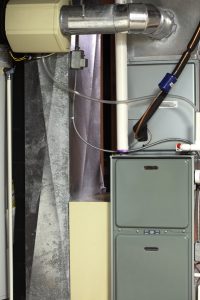 As you may well know, the furnace is probably the single most popular heating system throughout the country. Furnaces have a lot to offer homeowners. They're pretty affordable when compared to installing a system like a hydronic heating system, and they offer quick and effective heating through their forced air heat distribution method. Even if you've decided that a furnace is the right heating option for your home, though, you have another important consideration to make.
Are you going to use a gas or electric furnace? That's the question that we're going to be diving into a bit further in today's post. Before we do, we want to take this opportunity to remind you, right up top, that any furnace service in Fort Wayne, IN, regardless of whether it's a gas or electric model in question, requires the skill and expertise that only experienced, professional furnace technicians can offer. So be sure to schedule yours with our team!
If Natural Gas Is an Option, It's Typically the Preferred Option
We will get to a few benefits that electric furnaces actually have to offer over natural gas models, but we will get this right out into the open, first. If natural gas is an option for you,  it is kind of difficult to argue against. There are a few reasons for this.
Natural gas is a fairly affordable fuel source, both in comparison to other fuels and certainly when compared to the cost of electricity. It doesn't fluctuate in price as much as oil does, because it's a largely domestic product, so you don't really have to worry about spikes in that regard, either. And natural gas can be used for many other applications throughout the house, including fueling your water heater and/or oven and stove. Now, electricity can also power those appliances, both to keep them up and running and to produce the heat that they require, but you'll be looking at a higher operating cost. This is where we want to make the distinction between efficiency and affordability.
Why Choose an Electric Furnace, Then?
One thing that might drive you to the electric furnace is the energy efficiency that they have to offer. Because they are not combusting fuel in order to generate heat, they are not losing any of that heat generated to flue gases. This results in a very high efficiency rating. So what's the problem?
Regardless of efficiency, it's still possible to pay more with electricity than with natural gas. How? Because of the baseline costs. Electricity is simply more expensive than natural gas, and that price difference can not only close the gap between operational costs of both systems, but will likely leave the gas option being the more affordable option.
There is one very clear advantage to using electricity to heat your home with a furnace, though, and that is the fact that it's available in pretty much any home. If you don't have electricity from some source in your house, even if you're off the grid and using only solar energy, then you can't even power up the device that you're reading this on at home! Not all areas have access to natural gas, either conveniently or at all.
Schedule your furnace services with Collier's Comfort. True Comfort, True Savings.