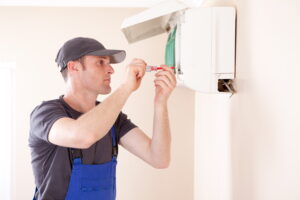 Customers are always on the lookout for a new and improved heating system that might cost them less to use each year, or add to the convenience of their smartphones and smart devices.
A heating system that can heat your home conveniently without running up the bank and costing a fortune will go a long way. That's what a ductless heater can be.
Ductless heating in New Haven, IN isn't for everyone. In fact, some people want to stick by their reliable furnaces and central air conditioners (especially if they have great ductwork), but many homeowners could benefit from this kind of system installation.
This blog post is going to cover the question we mentioned above. Why would you want to invest in a ductless heating system, and what are some of the unique selling points of these units? Buckle in, we've got a lot to cover!
The Pros and Cons of a Ductless System
Before we can determine whether a ductless heating and cooling system is right for your home, we need to talk about the advantages and disadvantages. Then, you can call us to schedule a comfort consultation so we can get a good idea of how much it will cost and what you can expect.
Advantages
Let's start with the most obvious advantage of a ductless heating system. It doesn't require air ducts. This is a big benefit because air duct installation, repairs, and replacement costs can be a major chunk of the initial investment for a heating system.
If you've got an old house with air ducts that are in rough shape, or you've got a house that's not set up specifically for a forced-air heating system (perhaps after an old boiler was previously removed), then a ductless heater might actually be a smaller investment than trying to get set up for a traditional centralized heating system.
Ductless heating systems are also versatile. They function as both heating and air conditioning systems, giving you comfort year-round and doing it in an energy-efficient way.
They run by cycling refrigerant in the same way that an air conditioner does, except split between up to four air handlers mounted in different sections of your home. So you get year-round comfort, superior temperature control, and all at an affordable cost of electricity.
Disadvantages
For anyone who is looking to invest in a high-efficiency ductless system, they're some of the pricier models on the market. These systems work extremely well and they're perfect for many homeowners, which makes the demand quite high for them. If you're willing to spend a bit extra on a system installation, then that might not be much of a disadvantage.
Also, ductless systems are heat pumps which are both heating and cooling systems. If you already have a powerful air conditioner or furnace system, then you might not need the added benefits of a dual-purposes system. Avoid redundancies so you can save money in the long run.
Is Ductless the Right Choice for You?
If you're looking for a heating and cooling system that's efficient, effective, and runs on electricity, you might be the perfect homeowner for a ductless mini split. Or, if you're in the market for a centralized heating or cooling system and you're more concerned about the initial price cost, then we'd advise looking at other systems.
Contact Collier's Comfort to explore your heating and cooling options. True Comfort, True Savings!