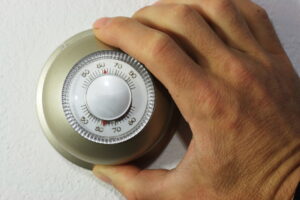 Commercial heating systems need love, too. We know that's pretty common for us to talk about residential heating systems on this blog because many of our customers are homeowners, but commercial property owners, building owners, and business owners are also some of the core clients that we serve.
That's why we need to talk about commercial heating systems and some tips that could make your life easier if you fit into one of those categories.
In truth, the less you have to think about your commercial heater, the better. Unless you're a commercial HVAC company like us, your heating system is probably one of the things you don't want to pay much attention to. If you own a restaurant, you're going to be much better off focusing on your menu and the specials for brunch this Sunday.
So, think of these tips as a way to keep your commercial heating in Fort Wayne, IN looking good without worrying too much about it.
Tip #1: Your Thermostat Is Your Best Friend
Let's start off with the most basic tip–your thermostat is going to be the most helpful tool in determining whether there's a serious problem with your commercial heating system or not. The thermostat's job is simple, it tells you what the temperature inside is, and it can be set to a new temperature threshold to signal the heating system to start running. The goal is to have your thermostat's set temperature match the actual temperature of your building.
This is easier said than done. Sometimes a thermostat is going to read a temperature that is clearly wrong (perhaps everyone is complaining that it's colder than the reading on the thermostat). This might mean that your thermostat is miscalibrated and requires repairs.
Or, sometimes your thermostat will simply not signal to the heating system when you need it to. This can be a problem with some of the wiring, the thermostat settings, or an issue with the components of your heating system.
The good news is that your thermostat will usually show you when it's not working properly, and you can then call for professional help.
Tip #2: Air Filters, Vents, and Ductwork
The heat created from your commercial heating system travels through ductwork and vents to get to the spaces of your building. Then, when it goes back into the heater, it travels through an air filter. All of these components need to be clear and in good shape in order for your building to have any hope of being comfortable.
Changing out your air filter every 1-3 months is a good place to start. This will ensure that contaminants like dust and debris don't enter your airways. Then, make sure you leave air vents uncovered by furniture or boxes, and take a quick look at your ductwork every now and then to ensure it's working properly.
Tip #3: Call for Help When You Need It
Notice a leak in your ductwork? Or perhaps your thermostat just isn't reading the temperature correctly? Then call for help! Our team can be there in record time to help you with your issues. From diagnosing the problem to fixing it, and even through replacing your heating system, we've got your back.
Contact the team at Collier's Comfort to schedule service today! True Comfort, True Savings.