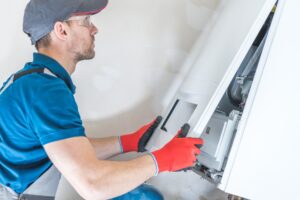 It's that time of year where air conditioners slowly wane out of conversation and the new hot topic to talk about is furnaces. Gas furnaces are the most common way to heat a home in the United States, and in the last few years they've only gotten more popular and efficient. New technological strides and the movement away from oil heating has given gas furnaces the prominence as the top contender for the heating system of the year.
However, you might not be like other homeowners who are excited to turn on their systems and feel the cozy warmth coming from the vents. There could be something wrong with your heating system that is cause for concern. Don't worry, our team specializes in heating repair in Fort Wayne, IN. We might not be able to tell you exactly what's wrong with your system from our online blog, but we can start the path towards fixing the issue here.
It's Inefficient
An inefficient furnace is going to be a topic of discussion in your family. The stress of having to pay high heating bills, coupled with the fact that it's just not keeping your home warm like it used to, will make it the villain in every story. We're used to these kinds of situations.
The good news is that something can be done about it. The AFUE rating of a furnace is meant to last throughout its operable lifespan, so when you call our team, we can make targeted repairs to ensure it works exactly as it did when you first purchased it.
It's Making Strange Noises
Is your furnace making a booming noise? This could be the sound of pooled gas being ignited all at once due to a dirty burner system.
Or perhaps your furnace is rattling due to some loose or misaligned component? This can be a bad problem because that loose component can knock into a more sensitive one and cause a health and safety concern.
Basically, all new and uncomfortable furnace noises are bad omens. Contact our team to get them fixed so your system can work quietly in the background.
There Are Too Many Cold Spots
Nobody likes cold spots, unless we're talking about the summer! Cold spots signify something wrong with your ducts, your heating system, your thermostat, or all three. The truth of the matter is that they shouldn't exist, even if you've grown so used to them that you think they should. Call our team to have your cold spots investigated, so we can come up with some pretty nifty and affordable solutions.
I'm Just Not Happy With It
Did you move into your home with the furnace already in place? Nobody said you had to like your heating system, especially if it's a gas furnace. While we think these types of heaters are great, you might personally prefer a radiant heating system that can keep you warm without the need for air circulation. These preferences are totally fine! After all, it's your house and you should have the heating system that you want.
If you're not happy with your heater, call Collier's Comfort for help. True Comfort, True Savings.