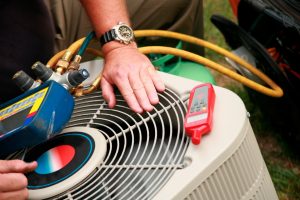 The weather is still comparatively cool here in April, and you probably haven't had much call for your air conditioner yet this year. That's going to change, however, and by the time the first hot day arrives, you're going to need your air conditioner to function reliably, for days on end in some cases.
Naturally, no one wants their system to break down right in the middle of a heat wave, and a good repair service can move quickly to correct that problem if necessary. But we believe that it's better to prevent the problem from starting in the first place than to deal with it after it's already caused a lot of damage. In order to do that, you should schedule an air conditioning servicing session now, before the temperatures get much warmer.
What Is It?
A servicing session resembles a tune-up for your car: not so much an attempt to fix a specific issue as a chance to look for any and all issues that may give your AC problems later in the summer. The technician will look the whole system over, as well as running it for 15-20 minutes, and look for anything out of the ordinary. In the case of a small problem – say, a loose wire or a filter that needs replacing – the technician can take care of it as part of the service session. In the event of more serious repairs, the technician can schedule another session to take care of them at a time of the homeowner's convenience (in most cases, the repair session can take place immediately after the servicing session, assuming that matches your schedule).
What Are the Benefits?
The benefits of an air conditioning service session vary from unit to unit, but usually boil down to three specific components:
Easier Repairs. No one likes to deal with air conditioning repairs, but when they are necessary, the sooner you spot the need, the better. Not only does it tend to reduce the cost of repairs (the damage hasn't had as much time to spread), but it allows you to deal with the issue on your timetable. Contrast that with waiting for a breakdown and having to rearrange your schedule to get it fixed before the next hot day.
Lower Monthly Bills. Changing the filters, tightening loose bolts and engaging in other little "fix its' can improve the functioning of your air conditioner considerably. It will consume less energy and thus cost you less in monthly bills than it would without the servicing session. With summers getting hotter every year, that savings can be more important than ever.
A Longer Life. When applied regularly over time, air conditioning servicing sessions can lower the wear and tear on your unit. That in turn allows them to run longer than they would otherwise before needed replacement. It also tends to make repairs less expensive and less frequent later in the system's life.
For quality air conditioner servicing in Fort Wayne, IN, call on Collier's Comfort today