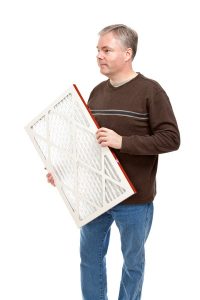 What's your next commercial project? Are you excited to open up that new area for additional space? Or perhaps you're finally putting the finishing touches on a new bathroom that your customers and employees will be able to enjoy? Construction projects are always opportunities to expand your business and access new customers that you couldn't before. However, construction projects don't just come with one price tag, they come with several costs that we're going to talk about today.
Construction projects, especially for commercial investments, can become costly in the form of air quality problems. Your establishment's commercial HVAC in Auburn, IN can begin to suffer when a project kicks volatile organic compounds into the air and threatens the comfort and scent of the space. Before you start canceling projects, let our team help you by discussing the benefits of an air filter system that can alleviate the majority of problems we just mentioned.
3 Contaminants That Our Filters Can Eliminate
When you investigate the results of a construction project, you're likely going to encounter these three major contaminants. They might be things that exist in all spaces, both residential and commercial, but construction projects are notorious for kicking them into the atmosphere at alarming rates and causing discomfort. So, let's talk about these contaminants, where they come from, and how you can fight against them.
Volatile Organic Compounds. The first and most alarming issue that can come with various construction projects is the dispersal of volatile organic compounds that can exist in your air. Volatile organic compounds, or VOCs, are chemicals like formaldehyde, methylene chloride, xylene, benzene, and more. These might not sound familiar, but they exist in many construction materials and plastics that are used in modern projects. While these materials might be safe and affordable to work with, when these particles exist in your air and are breathed in, they can become a health hazard. An air filter can catch these particles and remove them completely.
Paint fumes. Painting is one of the best things you can have done for your business, but it will lead to foul odors and paint fumes existing in your air for weeks or months at a time. If your establishment serves food or has employees inside of it for long periods of time, this can weigh heavily on your productivity and overall morale. Air filters can help siphon out paint fumes from the air to improve the air quality as a whole.
Kicked up dust and debris. Oftentimes, no matter what the construction project may be, it will end up kicking dirt, dust, and debris into the air as a result. Corners of your business that may not have been touched for years are now being ripped open and the contaminants that have settled there will be released into your air. Invest in an air filter to catch these particles before they settle somewhere else or bother your patrons.
Our Team Can Help
Want to explore your indoor air quality options going forward? Give our team a call to see if an air filter, air purifier, or some other IAQ system would be perfect for your business.
Contact Collier's Comfort for help fighting against contaminants. True Comfort, True Savings.