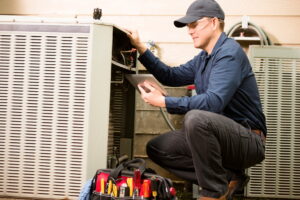 Your air conditioner needs to be protected. That could mean a variety of things, like being protected from wear and tear by routine maintenance every year, or being protected from additional problems by calling a professional that you can trust to fix it. It's important to think of your AC like the investment that it is, and any proactive step you take towards keeping it in good condition is going to help you down the line.
Today, we're going to talk about a specific type of protection that we advocate for. Warranties are absolutely vital in the HVAC industry, and when it comes to your air conditioner, if you've got a warranty then you're much better off not losing it.
If you're looking to save money on AC repair in Auburn, IN, or if you thought that skipping maintenance would be fine, then keep reading as we shed some light on the situation.
What's the Point of an AC Warranty?
This is an important question to address before we get into how a warranty can be voided. Firstly, a warranty is usually a layer of protection for a specific amount of time, where you are not held liable for the costs of repairs and unforeseen problems. This can be great because it gives you peace of mind when you run your air conditioner. You don't have to worry about what happens when it breaks down or runs into problems, because you're not paying for the repairs!
Warranties can seriously be worth their weight in gold and save you thousands over the lifespan of your system. The moment that warranty is gone, you could be held liable for costs and any problems that pop up, which is stressful and not something that everyone wants. Make sure you keep your warranty for as long as possible!
Three Ways It Can Be Voided
For anyone who is curious, here are three specific ways that a warranty can usually be voided. Basically, avoid doing these three things at all costs to maximize your AC's warranty and lifespan, as well as lower your total costs.
Lack of Maintenance
Maintenance might seem optional, but it's usually a requirement for a warranty. Manufacturers and service providers want to make sure that you're keeping your end of the bargain and allowing the system to be properly maintained. Don't skip maintenance!
Amateur Service
Hiring an amateur who lives down the street, or a family friend to fix your air conditioner might sound like a good financial decision. However, untrained hands can void your warranty, since most warranties require repairs to only be performed by licensed, certified HVAC professionals. Ultimately, this is a good thing and helps you avoid unnecessary problems in the future.
DIY Repairs
Even if you think you're skilled enough to quickly perform repairs on your AC system, you could void the warranty as soon as you open up the unit. Most warranties explicitly forbid homeowners from trying to fix their own systems, to make sure that no additional problems are caused by untrained hands.
Do yourself a favor and call Collier's Comfort for quality AC repairs. True Comfort, True Savings.