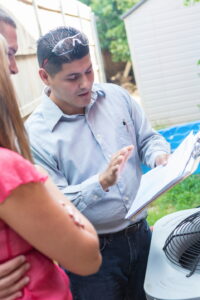 If you've been putting off AC maintenance and AC repairs for years, you may be wondering if it's too late to begin investing in them now. I can AC maintenance and AC repairs. Even make a difference after your air conditioner has suffered for so long?
The short answer is yes, it truly can make a difference, and we can explain why. If you need air conditioning service in Fort Wayne, IN, our team is here to help. We can complete any AC services you need, from maintenance to repairs to installing a completely new system. In the meantime, you can keep reading to learn more about why it is important to invest in AC repairs, even when you think it's too late.
Why It's Not Too Late
The only time it's too late to invest in AC. Repairs is when your air conditioner stops working completely. Even at that point, our team may be able to replace components here and there to improve your AC function and keep it operating for a longer. No matter how extensive your problems are, we are experts in the industry. We have tips and tricks that we've learned over our decades of experience in the industry.
And if we do come to your home for an AC repair assessment and find that your repairs will be more expensive than they are worth, we can talk to you about your options for installing a new air conditioner. We suggest that you never spend more than 50% of the cost of a new air conditioner on a single repair. Having a repair that is significantly expensive probably means that a major component is being replaced and it makes more sense to invest in a brand new system instead.
The Benefits of AC Maintenance
Experts recommend that you get AC maintenance annually on your air conditioner across its entire lifespan. That means scheduling maintenance from the time that it's brand new all the way to when it's 20 years old. But if you don't schedule AC maintenance regularly, it's easy for your air conditioner to fall into disrepair. The whole point of AC maintenance is to identify problems that need to be repaired, and it's always a good idea to invest in the service.
After skipping maintenance for a while, you may not think that AC repairs matter, but they do. When you invest in AC repairs at any stage, you are making improvements to your air conditioner so that you can get more out of the investment. It's never too late to tighten screws, re-lubricate parts and improve your overall energy efficiency. Keep in mind that if you have skipped out on AC maintenance for a while, the repair appointment may take a little longer. There may be more than usual that we need to address. But we will happily and patiently do so. Our goal is to help you get the most you can out of your air conditioner.
AC repair is even beneficial when your air conditioner is reaching the end of its life. Our team may be able to make some tweaks and AC repairs that help you get through another summer so you can save up and plan ahead for an AC replacement within the next year. That way you don't have to make an emergency replacement because of a complete system breakdown that comes as a surprise.
True Comfort, True Savings. The team at Colliers Comfort is here to serve you. Schedule an appointment today for AC service.