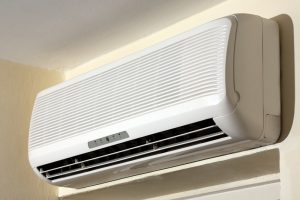 A ductless mini split air conditioner is a great investment for your home. Not only does it save you space compared to a central air conditioner, but it is also highly energy efficient. However, ductless units also come along with higher maintenance expectations for you as the homeowner.
If you have a ductless HVAC in New Haven, IN, it is important for you to do three key things in between your maintenance appointment with our team of experts. Keep reading to learn more about how you can care for your ductless mini split to keep it running great all year long and even extend its lifespan.
Clean the Filter
Each mini split unit in your home is a complete working air conditioner, right down to the air filter. While you don't have to buy a new filter and replace it every month, you do have to clean the reusable filter regularly. In fact, you may even have to clean up more frequently than once a month, depending on your indoor air quality.
If you don't clean the filter, it can get clogged quickly. Dirt and debris can make their way into your ductless unit and cause a lot of problems. Your unit may not cool as efficiently, and the entire system can even get clogged up with dirt, requiring a maintenance appointment with our team.
Clean the Condensate Drain Line
Your ductless mini split also has a condensate drain line. Part of the cooling process is to remove humidity from the air. After removing this humidity, the moisture condenses into water droplets and drains from your mini split inside to the outdoor portion of the unit. Even though it works exactly the same as it does in a larger air conditioner, all of the components are smaller, including the condensate drain line.
This means that the condensate drain line can get clogged much easier since the pipe is not as big. One of your responsibilities as a homeowner is to flush this line out each month to prevent mold and mildew growth and break down dust and dirt before they can develop into clogs. You can do this by pouring a little bit of vinegar into the drain line for each of your units. You can also clean the condenser coils on the outdoor portion of your unit to help maintain good airflow and draining from start to finish.
Pay Attention to Problems
It is so important for you to pay attention to the signs that something is wrong with your ductless mini split. Any usual sounds and smells can mean that your ductless mini split needs repairs. Don't wait for the next maintenance appointment to roll around for a problem to be addressed. It is important to give us a call sooner, rather than later. Otherwise, problems can fester and spread quickly, leading to an even more expensive repair down the line.
True Comfort, True Savings. The team at Colliers Comfort is here to serve you. Schedule an appointment today for all your ductless mini split needs.