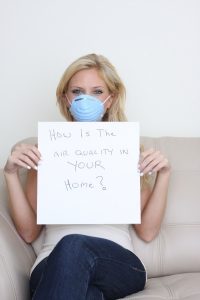 With all that is going on in the world right now, it is understandable that homeowners want to keep the air that they breathe in their homes clean. While there is no single system that can guarantee to remove all harmful pollutants from the air in your home, biological or otherwise, there are systems out there that can really help to clean up the air that you breathe throughout your house. Of these systems, the iWave air purification suite of products is right up at the top.
Currently, the COVID-19 virus is not available for testing. That's important to understand if this is your reason for seeking products like iWave air purification systems. However, you should also understand that the iWave family of products is proven through independent lab testing to significantly reduce many pathogens and viruses similar to coronavirus in the home, both in the air and on surfaces.
What Is the iWave Advantage?
There are a lot of different air quality products on the market today. Why should you jump at the opportunity to schedule iWave air purification services in Fort Wayne, IN? Well, the answer is quite simple. They are effective, they are convenient, and the cost of ownership and operation is low. Not only will the iWave family of products clean your air thoroughly, but they also require very little in terms of maintenance. Other "similar" systems require ongoing maintenance with the changing of bulbs, replacement of cells, and more.
Concerned about harmful byproducts emitted by the system? Don't be. They don't produce any such byproducts. They have no replacement parts. And, thanks to the iWave-R's self-cleaning design (patent pending), you don't even have to worry about keeping the equipment clean! Throw in Nu-Calgon's three-year limited warranty on iWave products, and it should be pretty clear that this is one suite of systems that is incredibly tough to beat.
Schedule Service with Professionals That You Can Trust
It is important that you schedule your iWave air purification system services with trained professionals for a number of reasons. First of all, doing so is necessary if you really want to get that aforementioned three-year warranty. It's about more than that, though. You also want to be sure that your systems are installed the right way so that they function the right way. The last thing that anyone wants to worry about right now is a false sense of security. We'll make sure that your iWave product is installed properly in order to work properly.
And remember, you certainly don't want any damage done to your HVAC or IAQ systems because you trusted an unqualified party with the installation of your iWave system. So be sure to dial our number, ask about your different options, and make an informed decision. Once you have, we'll handle your system installation the right way, every step of the wave. Call today to get started!
Schedule your IAQ services, including your iWave product installation, with the indoor air quality pros at Collier's Comfort. True Comfort, True Savings.