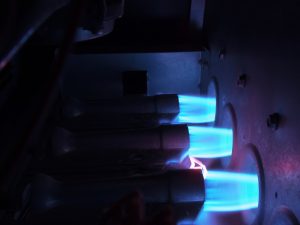 When autumn arrives, the weather gets chilly, and homeowners will be turning to boilers, furnaces and other types of heating system to keep their homes warm in the long winter to come. If your existing heating system is one its last legs, now is the time to schedule the installation of a new one.
Replacing a heating system now makes all kinds of sense. The weather is still comparatively warm, which means you won't have as much need for it as you will in just a few short weeks. It gives you time to plan and prepare for the operation, and schedule a replacement session according to your timetable instead of having to run around in the face of an unexpected breakdown. That also lets you enjoy the improved performance and reduced operating costs that a new heating system will bring, helping you cut down on those high monthly bills from the time the first snow falls.
But before that happens, you have to ask yourself if replacing your heater is the right path to take, or if your existing heating system can last at least another winter or two. In the end, only the homeowner can make that call. Since every heating system is unique, the status of yours is something that only you can accurately assess. There are, however, several mitigating factors – two in particular – that can help you make up your mind. If both of these conditions are met, it's probably time to get a new heater.
The Warranty Has Expired
Heating systems all come with a warranty, covering the cost of replacing the original parts for a given period of years. As long as the warranty is still in effect, it's usually a good idea to repair the heater instead of replacing it, since you won't have to pay for the replacement parts (provided they're they originals). Even after the warranty has expired, if the repair costs or operating costs are not too high, then fixing any problems is likely preferable to replacing the whole thing. Only when the warranty has expired and the costs are too high should you consider replacement as an alternative.
Costs Are Too High
What do we mean when we say costs are too high? That comes down to two things.
Repair costs, which may run higher than the system is worth. This can be because a single repair costs more than the system is worth, or because you have been forced to schedule repairs more than twice in the last twelve months.
Monthly costs, which inevitably creep upward as the heater ages and loses efficiency. Routine maintenance can curtail this decline, but if you found you were paying more for heating last winter than you're comfortable paying this year, a new system can ease the pinch of those bills, as well as eliminating the worry about a worn part malfunctioning over the winter.
For quality heating replacement services in Fort Wayne, IN, call on the friendly professionals at Collier's Comfort today!