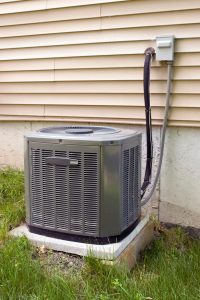 Fall will be here in a few weeks, and with it comes the eventual need to shut down your air conditioner and turn on your heater. Last week, we dealt with getting your heating system up to speed with timely maintenance. This week, we're going to cover winterizing your air conditioner, and preparing it for months of inactivity as winter arrives.
Winterizing your AC is important because it will cut down on wear and tear over the cooler months and ensure that your system is ready to go as soon as you need it next spring. Most of the steps can be taken yourself, though there is one that we strongly recommend you speak to a professional about.
Maintenance
Air conditioners work hard over the summer, and a lot of damage can build up without you being aware of it. Loose bolts can cause components to rattle in their housings, for example, which increases wear and tear, and can hasten the component's failure. Low refrigerant and similar issues can create serious problems too, and if a significant repair issue is building, it's best to get it take care of over the winter, when you have plenty of time to schedule a repair session.
That means getting your air conditioner maintained from a qualified service technician. They will come to your house and give the air conditioner a thorough examination. If any little issues like loose bolts are apparent, the technician can fix them immediately. If more extensive work is needed, the technician can schedule a repair session at your convenience, or even conduct such a session immediately upon completion of the maintenance session, provided the issue can be resolved immediately.
That means your air conditioner will be ready to go as soon as you need it in the spring. It also means that it will run more efficiently than it might otherwise, and that any serious problems won't have a chance to grow worse as the system gathers dust over the long winter. When applied regularly over time,
Handling the Rest
Beyond the maintenance itself, you can prepare for winterizing your air conditioner itself. It starts by shutting the power off to the outdoor part of the unit once you know you won't need the air conditioner until spring. This will keep it from turning on during an unexpected temperature spike, then freezing over when the temperature drops. (You should never run the air conditioner when the temperature drops below 65 degrees.)
In addition, it pays to clear the space around the air conditioner of debris, including leaves, weeds and other detritus. You should also cover the outdoor portion of the unit (you can buy sized covers at any hardware store or home improvement center) and make sure it's secured so it won't blow off in the event of inclement weather. That will keep the unit protected from the elements and lower the effects of wear and tear over the winter.
For quality air conditioning maintenance in Fort Wayne, IN, call the pros at Collier's Comfort today!