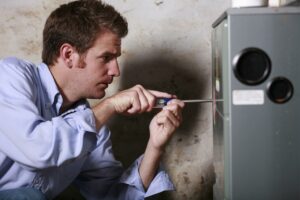 It's getting to be the end of heating season here in Indiana, but you're not out of the woods yet. We're still getting inundated with call after call asking questions about strange noises, funky smells, and just poor performance from heating systems. The truth is that many homeowners might need heater repair in Bluffton, IN right now but they don't necessarily know what to look for.
So, let's cut right to the chase. We're going to answer some of the most common questions we get in this handy FAQ down below. Do you have additional questions that you think should be answered? Or perhaps asking questions isn't good enough and you need a professional to help you with your heater problem? Don't worry, give our team a call so we can help. We offer true comfort, true savings, just as our slogan says.
Why Is My Heater Making This Noise?
Rattling, buzzing, booming, shrieking… Noises can come in many different forms when they're produced by your heater. The common denominator among all of these sounds is that they should never be happening in the first place. Rattling can be from a loose part or a screw that's fallen out of place. Buzzing can be an electrical problem or something else. Booming can be from delayed fuel injectors due to a build-up of soot and grime. Shrieking is usually a combination of things but it's never good and likely means your system is about to shut down.
Basically, if you hear any of these noises, call us to have your system repaired.
When Will My Heater Stop Working?
We don't really know the answer to that question. What we can tell you, is that heaters never last more than 15 years and run efficiently. If your heater is between 10-15 years of age, you should start considering your options for a heater replacement. Expensive parts will soon need replacement, efficiency levels will dramatically drop, and it just won't keep your home as comfortable as it used to.
Why Are My Bills so High?
This could be for many reasons. For starters, high bills signify inefficiency coming from your heating system. Your heater is simply using more energy or fuel than it is supposed to in order to keep your home warm. This is not good and could be caused by multiple things. You could need some targeted repairs, your system could lack maintenance, or it might be time to retire it and have it replaced by a new one.
Do I Need Help with My Heater?
This depends on everything we listed above and beyond! If you're worried about the operation of your heater, the comfort of your home, or the efficiency causing your bills to rise, then you can call us for help. Chances are high if you stumbled on this blog post that you're in need of some kind of help, and we're here to tell you that we're the team that can get the job done.
Contact Collier's Comfort today for help with your heater. True Comfort, True Savings!