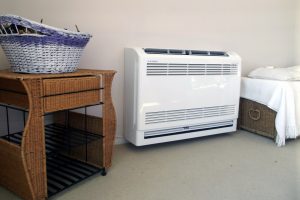 Most homes in the area use either forced-air furnaces or boilers of some kind to keep warm in the winter. But they're not the only systems out there, and if you have a different one than the traditional models, you need to find a service that can take care of any problems that are encountered, and that knows your system as well as they know more common ones.
Heat pump technology, in particular, has become much more advanced in the last few years, and more homes in the Fort Wayne area are using them then ever before. They can save you a lot of money on monthly bills, and with the right service in place, you'll always have experts on call in the event of trouble.
How Do They Work?
Heat pumps are essentially a variation on air conditioners, with a single twist that makes them very good heaters as well. Air conditioners cycle refrigerant through a never-ending loop that first bleeds heat outside the home, then cools the air inside the unit to be distributed through the ducts in your household. The heat pump works in an identical manner during the summer, but in the winter, the flow can basically be reversed: releasing heated air inside the home and cool air outside the home.
What are the Benefits?
Heat pumps serve as very effective air conditioners in their own right, but their real benefit comes in the winter, which is just about to begin. Because the refrigerant is theoretically infinitely renewable (though leaks do take place), it costs much less to run than heating systems fed by gas or electricity. That means it can save you a great deal of money on heating costs when installed and maintain by trained technicians.
The biggest knock against heat pumps comes with their effectiveness, and in the past they have not been able to keep up with the demand on the very coldest days. But new models are far more efficient than older ones, and many can handle even the coldest days with no loss of service. In addition, hybrid units combine the heat pump with a smaller furnace that can pick up the slack when the temperature is just too cold for the regular unit to do its job. Even then, the heat pump helps cut costs tremendously by providing more efficient heating throughout the winter.
You Need Someone in the Know
Having said that, heat pumps still require a qualified service to install, repair and maintain. It pays to have a company that knows how the technology works and can address any problems during the summer and winter alike. That way, you can make sure you're taking advantage of all the benefits that heat pump technology has to offer. And when trouble arises, you don't have to rely on someone "transposing" their knowledge from other forms of air conditioning.
If a heat pump sounds like a good fit for your Fort Wayne, IN home, or you already have a heat pump and it needs some attention, call on the pros at Collier's Comfort today!