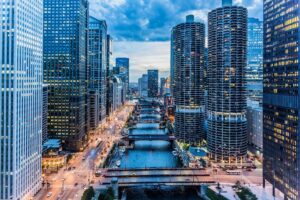 This is a pretty vague question. What would you say, as a business owner, to someone asking "how expensive is it to run a business?" Or what would you say to someone that says "how expensive is it to buy a house?" The answers to these questions can vary greatly and when you're looking for accurate information, one can get lost in the weeds pretty easily. For this blog post, we're going to speak generally because every commercial heating system and commercial space is different. However, there are a few things in common with all of them that either cause the price of commercial HVAC in Huntington, IN to rise or fall.
So, let's talk about how expensive commercial HVAC can be, and figure out some great methods to reduce that cost for you and other business owners out there! Don't forget to call us if you have any additional questions!
Avoid Early Replacements
One thing is absolutely certain in this industry–replacement costs are one of the most expensive things you can pay for when it comes to commercial HVAC units. If you're replacing your commercial comfort system every 5 years, then you're losing thousands of dollars at the bare minimum. These kinds of systems can last upwards of 10 or 15 years, sometimes even longer, and it's a big task to keep them running that long, but the savings are definitely worth it.
If you take anything from this blog as a business owner, take the fact that you should always be looking to stave off replacement as much as possible. Sign up for maintenance, change your air filter, call our team for support, do anything you can to keep your comfort technology running through to the end of its lifespan. Once it reaches that point, then a replacement is a worthy investment.
Get Repairs Done Early
One of the most common reasons for commercial HVAC systems to require early replacement is from a repair need that never got addressed. When something goes wrong in your commercial HVAC unit, components will start to stress out while they work harder. Your system will probably suck up more fuel or energy to keep your commercial space comfortable, and that repair is likely going to affect numerous other areas of your system.
It's important that you call for repairs at the first sign that something is wrong. Maybe you notice an exceptionally high heating bill, or you hear an uncomfortable rattling noise come from your ductwork. These are great reasons to call for professional help and getting them fixed will save you money down the line.
Commercial Maintenance Saves a Ton
Maintenance is at the end of this list, but it's one of the most important things you can do for your commercial HVAC system to alleviate costs. Maintenance will keep your HVAC system's components running well year after year, so you're much less likely to require an early replacement, and repair costs will even be lower. If you're looking for a way to avoid expensive costs down the line, this is one of the first and best things you can do. Sign up for our commercial maintenance plan today!
Contact Collier's Comfort for commercial HVAC services. True Comfort, True Savings.