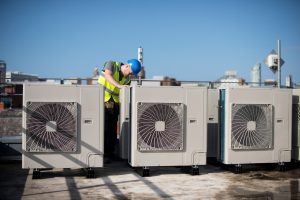 When it comes to your business, you know exactly what you're doing. You are an expert in your field, and you are ready to serve your customers.
As part of that, you want to offer a welcoming environment for both your customers and your team. A big contributing factor is the indoor temperature and air quality. 
If your commercial air conditioner isn't working at its best, it can really hinder your business. Your location may be uncomfortable because it is too hot, too cold, or smells bad.
If you need service for commercial air conditioners in Decatur, IN, our team can help. In the meantime, you can keep reading to learn why commercial AC is so crucial for the comfort of your team members and customers. 
Just Right Temperature
Ideally, you want the inside of your business to be a comfortable temperature. You don't want it to be too hot or too cool. If your air conditioner is not working correctly, either one of these temperature extremes can be a problem.
It's possible that your commercial AC is not doing enough to cool your business location, making it feel hot and sticky. But it is equally possible that your commercial AC is providing too much cooling and making your business feel uncomfortably chilly. 
The good news is, these are usually easy problems to fix. Our team can check your thermostat settings, recalibrate your thermostat if needed, and also check airflow around your business to ensure that your AC is able to work at the highest efficiency to meet your needs.
One of the greatest benefits of a commercial AC system is the ability to add or take away units to fit your square footage and cooling needs. While we are on site, our team can also offer tips and tricks for maximizing your air conditioner and helping you reach that just right temperature that you desire.
Indoor Air Quality
The feeling of the air inside your business and how it smells is equally important as the temperature. If dust and dirt are recirculating through your AC system, it can make your business smell musty and the air feel heavy.
The same particles can also trigger allergy symptoms for many people, making your business that much more uncomfortable. Your commercial air conditioner needs to improve the indoor air quality just as much as it needs to help maintain a comfortable temperature. 
Customers and team members alike can be turned away by poor indoor air quality. No one wants to work or shop in an uncomfortable environment, and you don't want to create one because of a poor commercial AC system.
If the air filter on your commercial air conditioner isn't doing enough, we may be able to recommend a different air filter. Or, you can upgrade the unit and add in an air filtration system that helps to eliminate more than 99% of all small particles like bacteria, viruses, and mold spores that may be in the air. 
You don't have to settle when it comes to the quality of air inside your business location. Our team is here to help you tweak your system and get it where it needs to be based on your own unique needs.
True Comfort, True Savings. We are here to serve you. Schedule an appointment today for commercial HVAC service and invest in your continued comfort.