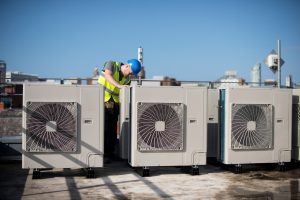 Commercial air conditioners are even more important than residential air conditioners in many ways. Most of us spend the bulk of our days as a business or retail space, after all, and if you're either a business owner or an office manager, you know how important a comfortable environment is. A problem with your commercial air conditioners could send customers away in droves, force your employees to work in hot and uncomfortable conditions (or even make you send them home for the day), and even damage key components to your business like computers, which can overheat in the midst of our sweltering Indiana summers.
Quality commercial air conditioning is vital to keeping your business running. And yet you likely don't have time to monkey with it when trouble arises. You need a top-notch commercial AC service to take care of it, as well as performing maintenance and replacement services when necessary. A number of companies out there provide such a service, but when looking for the right one, there are some specific details you want to look for.
1.     Do They Offer Specialized Commercial Service?
Some services claim to be able to handle commercial air conditioners, but in reality they just "transpose" the basics of residential HVAC systems on a larger scale. While the basic principles of commercial and residential air conditioning are the same, commercial units are formatted quite differently, and need meet specific criteria that residential units simply don't possess. You want a company with dedicated commercial HVAC services, not one that says they know what they're doing and simply transposes residential experience onto a commercial setting. Knowledge and experience go a long way towards delivering reliable service to your commercial endeavor.
2.     Up-Front Estimates
As a business owner or office manager, your eye is always on the bottom line. When your HVAC system needs repairs, or a tune-up, or you require additional modular units to be placed in your system to account for changing needs, you need to know what the cost will be immediately before work begins. That lets you plan for the work in your budget appropriately, and will prevent you from dealing with any nasty surprises midway through an operation.
3.     24/7 Services
Not every problem takes place during business hours and sometimes, you need a service to come in during the night or on weekends. This is even more important for commercial spaces than residential ones. A breakdown needs to be treated as quickly as possible to get your operation up and running again, and sometimes, you can't have an AC service doing their work during business hours. Emergency services mean that the technicians can respond quickly to handle your issue before it affects the bottom line, and working after-hours means they can address the problem without interfering with day-to-day operations.
At Collier's Comfort, we provided dedicated commercial HVAC service throughout the Fort Wayne, IN area. We offer emergency services and estimates are calculated up front so you know exactly what's entailed before work begins. Call us today and let us show you what we can do!