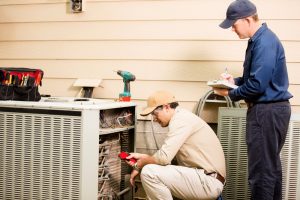 The days are still warm out there, but it's fairly safe to say that the most intense heat of the summer season is behind us for the year. Does that mean that you won't need your AC anymore? Not necessarily. Does that mean that you can wait to handle any major AC issues until next summer? Definitely not! If you're thinking about an air conditioning replacement in Fort Wayne, IN, then you should probably start thinking more seriously right now!
We understand that an AC replacement is nothing to rush into. We also believe in helping our clients to explore all of their options. Just because something's gone wrong with your air conditioner doesn't mean that you need to replace it entirely. This is a major investment we're talking about here. There does come a time, though, when you have to step back and ask—is my air conditioner still worth repairing? That's different than can it still be repaired.
Hey, It's Still Up and Running, Soooooo…
Okay, sure. A complete system breakdown is a definite reason to consider replacing your air conditioner. If you ask us, however, it is much better to replace your air conditioning system before it has a chance to break down entirely. Now, we're not suggesting that you replace a system that is free of problems or requires only minor repairs just to play it safe or anything like that. It does mean that you should start asking yourself some questions about your system, though. For instance:
How Old Is Your Air Conditioner? Some homeowners seem to think that age is the primary factor to consider when it comes to an AC replacement. That's not entirely true, but it's a great factor to weigh other issues against. If your system is getting up there in years, and it's giving you other cause for concern in different areas, then it can be the deciding factor in that regard. Consider it along with the following.
How Efficient Is Your Air Conditioner? Okay, now we're talking. If you have an old air conditioner that is still reliable, but which is no longer able to cool your home efficiently (or was just manufactured at a time when efficiency standards were lower), then that's a perfectly valid reason to replace. The initial cost is substantial, but can be offset by years of improved energy efficiency.
How Reliable Is Your Air Conditioner? We have great air conditioning repair technicians on our team. Whatever problem your system is up against, there's a very good chance we can fix it. What you need to ask is: should you bother? There's only so much money you'll want to put into an old, unreliable system. If you're facing a major repair for an older system, or you are just starting to notice those repair costs adding up, reach out to a member of our team to discuss your replacement options.
Whatever your AC service needs may be, contact the pros here at Collier's Comfort. True Comfort, True Savings.