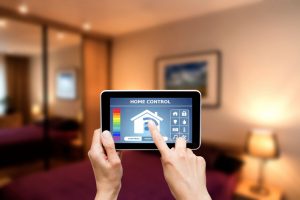 When we say "air conditioning services," we don't just mean installation and repair. Various products can be installed in your AC to give it an upgrade.
In this post, we'll be going over a few specific AC upgrades that will help you go the extra step in controlling your comfort.
Zone Control
If anything can give you complete control over the heating and cooling in your home, it's zone control.
If you have a central air system, then that means you have a series of ducts in your home that disperse the cold air to all the rooms evenly. At least, your system will disperse the air as evenly as it can. In reality, many homes suffer from hot spots–those rooms that always seem hot.
The logical answer might be to crank up the cold air, but this is inefficient. Since your ducts treat every room the same, it will only make all the other rooms colder. Zone control is your answer.
A zone control system is made up of additional thermostats and dampers inside the ductwork. Each room is installed with its own thermostat so that you can manually adjust the temperature. The dampers inside the ductwork will then direct the flow to the proper rooms. A fully installed zone control system will allow you to:
Lower the temperature in your hotspot rooms.
Set the temperature individually in every other room.
Save energy by turning the AC off entirely in unused rooms.
Thermostats
If you're wondering how changing a thermostat could possibly be an upgrade, we understand where you're coming from. Thermostats require very little maintenance and don't run into too many issues. However, there are definitely options for upgrading.
One of the biggest advantages for upgrading your thermostat is the efficiency. Once you upgrade to a programmable thermostat, a whole new world will open for you.
Programmable: These thermostats come with pre-programmed schedules to help you save without compromising on comfort. No more forgetting to turn off the AC, and you'll be less tempted to adjust the settings when it's already being done for you.
Wireless: A big step up above programmable are the wireless or Smart Thermostats. Not only can these be programmed, but they can be controlled from anywhere with your smartphone. As long as you're connected to the internet, you can make adjustments.
Dehumidifiers
Even after upgrading your thermostat and installing a zone control system, there's one air conditioning service in Fort Wayne, IN that makes all the difference:
Removing that humidity.
Balanced humidity is essential to comfort. To achieve healthy sleep, for example, humidity levels should range from 30 to 50 percent. Anything above that will have you feeling like you're stuck to the sheets.
AC can help with removing the humidity as a side effect of its normal function. If you're still struggling with humidity, though, then it could be time to upgrade to a dedicated dehumidifier. These are installed in the same place as your AC and can treat the entire home.
Comfort isn't the only thing at stake with humidity. High humidity levels will encourage the growth of mold and bacteria, potentially turning the rooms of your home into a breeding ground for germs.
It's always the right time for an upgrade. Contact Collier's Comfort today.