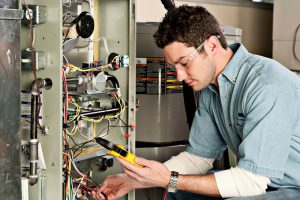 Summer is gearing up to arrive. We know it. You know it. It's understandable that some of you are chomping at the bit for it to just arrive already. However, we have to remind you that now is no time to get cocky.  Yes, the days are warming up. Yes, the sun is making itself more and more present. No, that doesn't mean that you can start to push your heating system out of mind. If you need furnace repair in Fort Wayne, IN, don't wait.
The nights are still plenty chilly, and you are going to need your furnace for at least a little longer.  We know how tempting it is to say well, we're almost there. It'll be fine for the rest of the season, I'm sure. We also know how poorly that typically pans out for the homeowners thinking that way, and how much they wish they'd taken action sooner when the do get around to scheduling service.
That Problem Is Just Going to Be Waiting for You Next Winter
One fact that you have to keep in mind is that out of sight, out of mind, has never made less sense than when applied to heating system problems. Sure, your heater may be able to limp through the rest of the heating season. What exactly do you expect to happen when temperatures start to drop again next heating season, though? That problem is still going to be there waiting for you, and chances are that you may have let it slip your mind.
That means that you may be unprepared going into a brand new heating season, and that you might be trying to schedule heating repairs right when heating technicians everywhere are at their busiest. Don't you think that it makes more sense to get your repairs out of the way now?  And that way, you can rest assured that your heater is in the great shape necessary to get back into action next season?
When It Comes to Heating, Safety Might Be an Issue
We are not alarmists, and we don't play on homeowners' fears in order to boost our business. We'd obviously never dream of exploiting homeowners in that manner. What we are, however, is a responsible business staffed by true experts in the industry. And that means being realistic. If you have a malfunctioning heating system, then it is definitely possible that an unsafe situation can develop.
Whether you have a natural gas furnace that may be suffering from a gas leak or an electric furnace that is experiencing wiring issues, you need a trained professional to ensure not only that your system is fixed fast, but that it is fixed right. You can expect nothing less when you work with our team. The only thing that we take more seriously than your satisfaction with our services is your safety. If your furnace is emitting a strange odor or making odd sounds when running, we're here to diagnose the problem accurately and fix it completely.