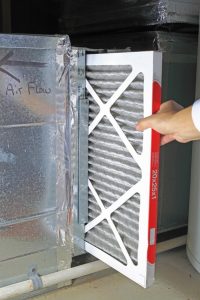 Are you concerned about illness and allergies through the cold season? The cold doesn't make our home's air quality any worse, but our immunities will be lowered due to the cold. If your home is not already equipped to combat poor indoor air quality, then here are some steps you can take to change that:
Change Your Filters Regularly
Now, we don't want to be misleading. Standard HVAC filters are not designed to improve indoor air quality. They're put in place to prevent dust and particles from collecting on top of sensitive components.
A standard HVAC filter won't improve indoor air quality, but not changing it will certainly make your air quality worse. A clogged air filter will limit airflow which, in turn, contributes to stagnant air in the home.
Don't Do DIY Air Sealing
Air sealing is when you seal up all the leaks in the drafty areas of your home. For example, around door frames and window frames. A combination of caulk and weather stripping can eliminate most of these leaks.
However, it's definitely possible to do too much air sealing. Without enough airflow, it can trap contaminants in the home and restrict proper ventilation. Finding this balance won't be easy for an amateur, so we recommend only having an indoor air quality expert in Fort Wayne, IN do it for you.
Buy More Plants
According to a NASA study, one way you can try cleaning the air naturally is by buying more plants. One plant per 100 square feet of space can help reduce the number of pollutants in the home. However, make sure that the plants you buy are on NASA's list.
Air Purifiers and Filters
While plants can certainly help, a more thorough way of cleaning the air is through dedicated air purifiers. These devices won't just remove allergens and harmful particles, but they can also remove smoke and odors. When equipped with a UV light bulb, they can also actively destroy the living microorganisms that spread illness, such as bacteria, mildew, and viruses.
Air filters, on the other hand, work a bit differently. Their filters catch particles as they slip through the air flow, thus helping to trap pollutants like pollen and pet dander. Different grades of air filter can be installed, depending on what kind of pollutants you want to eliminate.
Thorough Home Cleaning
The last thing we recommend is simply cleaning up as much as you can! Forced-air heaters, such as heat pumps or furnaces, can blow dust around the home. The easiest way to prevent this is by staying diligent about wiping your surfaces.
If you find that you're cleaning too frequently, however, then it might be time to have your ducts repaired or replaced. As the ducts begin to age, it's possible that they'll develop leaks or disconnects that can bring in dust and dirt from the attic. This can intermingle with your air supply and find its way into your home.