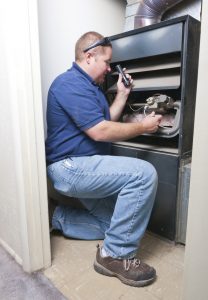 We're in the midst of fall, as the colors are turning and the temperature is steadily dropping. Chances are you're already running your heating system on a regular basis, and soon enough, you'll need it running every day in order to keep your house comfortable and your family members healthy. If there's a problem in your heater that requires repairs, now is the ideal time to determine it.
While laymen should never attempt to diagnose a given problem, let alone attempt to repair it (heaters require formal training and licensing to repair properly), you can still observe when something is wrong and call in a trained technician to handle it.
What to Look for
Common signs of problems with your furnace or other heating system can include, but are not limited to, the following:
Strange Noises. Strange noises can include anything that doesn't correspond to your heater's normal functions: groans, clangs, hums and whistles, among others. In most cases, the noise will start and stop with the starting and the stopping of the heater.
Low Heat Levels. Clogged burners, breaches in the ducts and other issues will lower the amount of heat that reaches your home. That will in turn bump your monthly bills up and place stress on other components: eventually resulting in further problems.
Low Air Flow. If you use a forced-air furnace, then trouble with the fan or blockage problems can lower the flow of air into your home.
Boilers and similar heating systems can spring leaks, which need to be repaired before the system can function. In some cases, the leaks are very small: leaving only steam or dampness behind.
Higher Bills. Sometimes, the problem doesn't hinder the heater from functioning, but a faulty component or similar issue can raise the monthly cost of running the system. If you detect a spike in your bills for no apparent reason, it pays to give a service technician a call.
It Won't Turn On. Gas can be dangerous, if there's a leak, many systems have automatic safety features that shut the system down rather than risk an explosion. The same thing will happen if there are problems with the ignition and for any similar issues that might constitute a risk. The good news is, it alerts you to the problem very quickly. But you'll need to get the issue fixed before you can use the heater.
Why Now?
Checking for heating problems now gives you time to perform proper repairs before the winter begins in earnest. That way, you don't need to worry about an unexpected breakdown or higher bills during the winter. It also means that the cost of repairing any damage will likely be lessened, since that damage won't have as much time to spread to other parts of your system.
The friendly professionals at Collier's Comfort perform heating repair services throughout Fort Wayne, IN, and 24-hour emergency service is available in case the issue needs immediate resolution. Call on our team today and let us know how we can help!