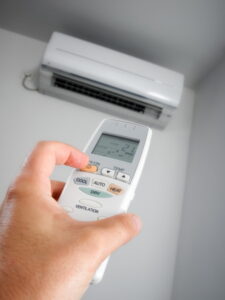 Whole-house, forced air heating and air conditioning systems are incredibly popular. And with good reason. These systems are efficient, and they're effective. When you use a furnace and an air conditioner (or just an air-source heat pump) to heat and cool your home, you also only need one heat distribution system to handle your heating and cooling—your ductwork! There is another option to consider, however, and it is one that we cannot recommend strongly enough.
This is the ductless mini split. As the name implies, ductless mini splits (or ductless heat pumps) do not require air ducts in order to distribute heated and cooled air throughout the house. And no, they are not at all just another version of a space heater or window unit. They're still whole-house systems, just with a very unique design. Read on to learn more about ductless mini splits in Fort Wayne, IN.
Better Comfort Control
Ductless mini splits do not distribute conditioned air throughout the house via a centralized system of ducts. Instead, they use wall-mounted blowers that are responsible for heating and cooling designated areas of the house. Small, open homes may need a single blower. Larger, multi-level homes may need 3 or 4. Whatever the case, you are going to have better control over the comfort in your home.
While ducted systems can be zoned, zone control is just an inherent part of the ductless mini split. Each blower is controlled independently by its own thermostat. That means that you can adjust temperatures in the empty bedrooms without leaving the folks in the dining room uncomfortable.
Better Efficiency
You can enjoy serious efficiency improvements when you choose a ductless mini split HVAC system. There are a few reasons for this. First of all, these systems are heat pumps (cooling-only models are available, but most homeowners choose the heat pump option). That means that they heat very efficiently, by transferring heat rather than creating new heat.
There is also the elimination of ductwork to consider. Air ducts can be damaged over time, developing leaks that waste energy. Heat gets in during the cooling season, heat gets out during the heating season. This really drives up energy costs, and many homeowners aren't even aware of the problem when they're experiencing it.
Plus, the improved control factor improves efficiency itself. If you're able to really customize the heating and cooling output in your home, you don't wind up heating empty rooms all day—at least not as much as you do the unoccupied rooms in the house.
Easier Installation
Don't have ductwork in your home? Want to avoid replacing old, damaged ductwork when you replace your HVAC system(s). Then you should definitely consider the use of a ductless mini split in your home. When you do, the installation is more straightforward.
It's obviously still a job for the pros, but the ductless system just needs a small hole drilled in the wall to connect the indoor and outdoor components. You're not going to need ducts put behind walls, up in attic space, etc.
Schedule your HVAC services with Collier's Comfort. True Comfort, True Savings.