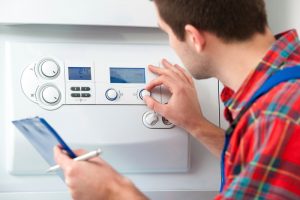 Your thermostat has a very important role in keeping your air conditioner running. Your thermostat is what measures the temperature inside of your home and signals when your air conditioner needs to turn on and off for cooling cycles. If your thermostat stops working, your air conditioner will stop working, too.
And when this happens, it means that you need thermostat service in Decatur, IN. Our team is here to help. We can help troubleshoot your thermostat issues and even replace your thermostat with an upgraded model if that is what's needed. In the meantime, you can keep reading to learn more about ways that you can troubleshoot your thermostat on your own before giving us a call.
Thermostat Batteries
First, you want to check your thermostat batteries. There's a chance that your thermostat batteries are low or have stopped working completely and need to be replaced. If this works, great! You solved the problem. If not, move on to the next step of troubleshooting.
Dirty Thermostat
Next, you want to open up your thermostat and look inside. If it is particularly dirty, that dust and grime may be interfering with how your thermostat measures the temperature in your home or communicates with your air conditioner. Keep in mind that the components inside of your thermostat are very fragile and you want to treat them gently.
Use a brush with very soft bristles, like a makeup brush, and wipe away the dust. Then, close your thermostat and see if it starts working again. If so, great work! If not, it's time to give our team a call. You could probably find some tutorials online for further troubleshooting your thermostat, but we advise against this. Instead, you should let one of our expert technicians fix or replace your thermostat. Attempting a DIY repair job may do more harm than good.
Miscalibration
Sometimes your thermostat simply gets miscalibrated. When this happens, the sensor cannot read the indoor air temperature accurately. It may signal for your air conditioner to turn on and off at the wrong times, if at all. Our team can recalibrate your thermostat and see if that helps at work again.
Upgrading Your Thermostat
If you have a particularly old thermostat, it's probably time for an upgrade anyway. You can replace the batteries, clean it out and even recalibrate it and it will work great. But a smart thermostat can do so much more than a more traditional thermostat does. For starters, you get a more accurate temperature reading.
Instead of making a best guess that what you're setting your dial to, you can choose a precise temperature for cooling your home. Plus, you can automate cooling your home by pre-programming settings into your thermostat. Many smart thermostats even learn from your cooling habits and offer suggestions for how you can make your air conditioner even more energy efficient.
True Comfort, True Savings. The team at Colliers Comfort is here to serve you. Schedule an appointment today for thermostat service.