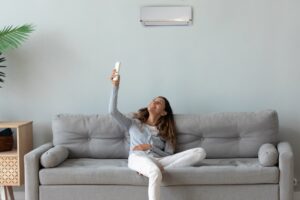 There are many different types of heating and air conditioning systems on the market. It's enough to make any typical homeowner's head spin! You might have seen the title of this blog post and wondered, "why is the ductless system getting all the attention?" We'll answer your question and shed a little insight on ductless technology in the process!
The truth is that more and more homes are switching to ductless heating and cooling. There are a variety of reasons for this switch, but the truth is that different homes will require different situations. In regards to your own home's AC services in Huntington, IN, ductless technology might be perfect.
This blog post seeks to provide homeowners with necessary information about ductless systems so we can help set them up in homes where they might be a huge improvement.
The Unique Advantages of a Ductless System
Ductless heating and cooling systems have some pretty nifty unique qualities about them. Homeowners should never just pass them up because they live in a cold climate, or don't think they're strong enough for their house. Every situation is different, and some situations are perfect for ductless units.
Home Additions and Finished Basements
The first and most applicable situation for a ductless system is when you've added on new area to your home. If you've already got a fitted heating system or cooling unit, it might not have the power to keep your entire house comfortable anymore. Ductless mini split systems are the answer to this conundrum.
Ductless systems are modular, which means you can add air handlers every time you add a section to your home. Are you planning on finishing your basement in the next few years? Then just purchase a ductless mini split to stick down there and have the whole area temperature treated without needing to completely overhaul your HVAC system!
Energy Efficiency
Ductless HVAC systems are incredibly efficient. For starters, they can be turned on and off one unit at a time, giving you the ability to control the temperature of certain sections of your home. This means you can leave your basement or kitchen alone if you're not going to be spending most of your time in there. It saves a ton on energy bills.
Also, ductless HVAC systems run on electricity which is incredibly affordable in some areas. Since this type of system moves heat instead of creating it, it doesn't take as much energy to operate.
Year-Round Comfort
Do you have a heating system that's on its last legs while your air conditioner starts to struggle as well? Then why not replace both with a singular system that can both heat and cool your home? The high price tag for a ductless HVAC system becomes manageable when it's killing two birds with one stone!
No Ducts!
The simplest and most powerful reason to invest in a ductless HVAC system is simply that duct installation is expensive and intrusive. Avoid that whole complicated process by just investing in a ductless installation and reap all the benefits of a powerful heating and cooling system!
Call Collier's Comfort for ductless HVAC installation and repair. True Comfort, True Savings.