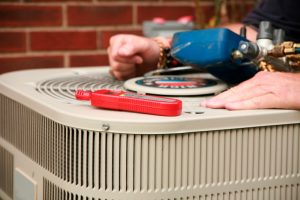 At some point, you are going to need professional air conditioning repair in Fort Wayne, IN. When that time comes, you want to work with skilled professionals that will get the job done right the first time, every time. That is why you want to schedule your AC repairs with us. Given that, we do understand that you want to keep your repairs as minor and infrequent as possible. The key to this is scheduling routine air conditioning maintenance.
The benefits of regular, professional air conditioning maintenance cannot be overstated. In today's post, we are going to cover why it is that you absolutely owe it to yourself and to your AC to schedule maintenance with our team. Our HomeSaver's Club makes maintenance even easier and even more beneficial than you'd imagined.  So read on, and remember that you rely on your AC way too much to take any chances with its condition or overall performance quality.
What Does Maintenance Entail?
I'm pretty handy, I bet that I could—
We don't want to be rude, but let us stop you right there. Unless you are a trained, professional HVAC technician, you have no business attempting to tune up your air conditioner on your own. Too many homeowners fail to fully understand how complex and involved a process routine maintenance really is. You need a thorough job to be done, and that is not something that you can do yourself. No amount of online tutorials will give you the training and education that you need.
During routine maintenance, our technicians go over every square inch of your system to ensure that everything is functioning properly. We check refrigerant levels to rule out leaks. We test electrical components like capacitors and relays. We clean coils, we lubricate moving parts as needed, and we replace filters that are too dirty for duty.
What's the Benefit?
Your air conditioner is an investment, and you want to get the best possible return on any investment that you make. Routine maintenance makes this possible. When your air conditioner is in great working condition, you are going to get the best performance that your system has to offer.
Your air conditioner is going to operate as efficiently as possible, helping to keep your cooling costs to a minimum. It will also be as reliable as possible. This doesn't mean it will never run into operational problems. Every mechanical system does. They'll be kept to a bare minimum, though, and that will help you to save more money while also protecting your comfort.
Schedule Service with Our Team Today!
That all sounds great, right? Well, just remember that maintenance may be the key to a great air conditioning performance—but great technicians are the key to great maintenance! Our team has the experience and expertise necessary for providing you with the best maintenance service around.  Let us know if you're ready to get the best that your air conditioning system has to offer.